Celebrating our dedicated staff!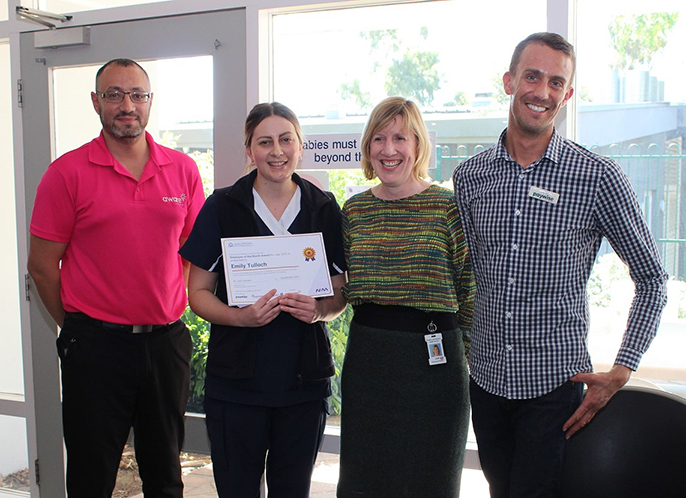 Emily Tulloch with our sponsors and Jodi Graham, Executive Director WNHS
Congratulations to WNHS OPH Midwife Emily Tulloch who is our July Employee of the Month.
Emily has been a midwife at OPH for more than five years and she cares for her patients beautifully.
As a member of the OPH Team midwifery program, Emily offers continuity of care to her patients in a professional, quiet and diligent way.
She promotes a healthy community to women and offers them a totally patient centred approach to their birth.
Emily engages her women by offering them the latest research and becomes a trusted member of a woman's health care team.
Emily's nominator said:
"As a fulltime registered midwife Emily is one of the most hardworking midwives I have ever worked with.
She is accommodating and flexible in her care for women and a reliable member of staff for her colleagues.
Emily is a team player, and often takes on greater workloads than other members of staff without complaint and additionally she completes that work to the upmost high standards."
Emily's patients are always very grateful to have had her.
Congratulations Emily!
A special thanks to our generous sponsors: HESTA, Paywise, Smartsalary and Aware Super.
If you've had a great experience with one of our staff members why not put them forward for an award? Next time you are onsite ask how you can submit a nomination.