Osborne Park Hospital receives new state-of-the-art CT scanner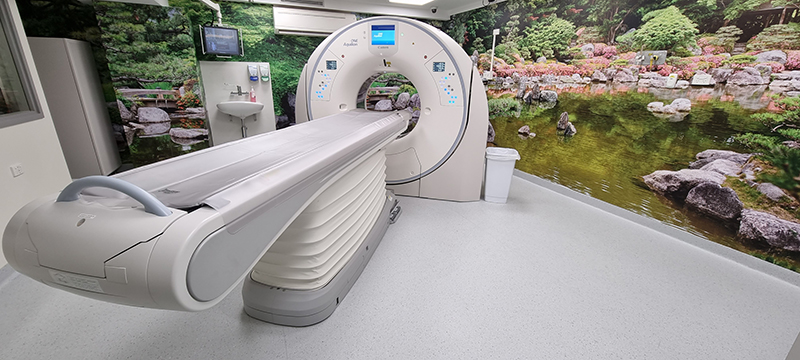 The Radiology department at Osborne Park Hospital is officially home to a brand new, cutting edge Computed Tomography (CT) scanner.
The new Canon Aquilion ONE Genesis unit took almost five weeks to install. It is deemed to be one of the most advanced systems in WA Health, and will provide a significant range of benefits to patients.
Harnessing the power of Artificial Intelligence for deep learning reconstruction (DLR), the CT scanner achieves high quality images at a fast rate whilst emitting a very low dose of radiation. The capabilities of the new equipment will also enable a broader range of scans to be performed at OPH.
Canon Medical Systems, who in keeping with their "Made for Patients, Made for Life "philosophy have worked with us to create a stunning mural of a Japanese garden. It spans across the room and provides a welcoming and tranquil environment for patients.
CT scanning services at OPH will be restricted until Friday 16th December as system staff are trained on the new equipment however, urgent exams will be prioritised during this time.