Get set for surgery with prehab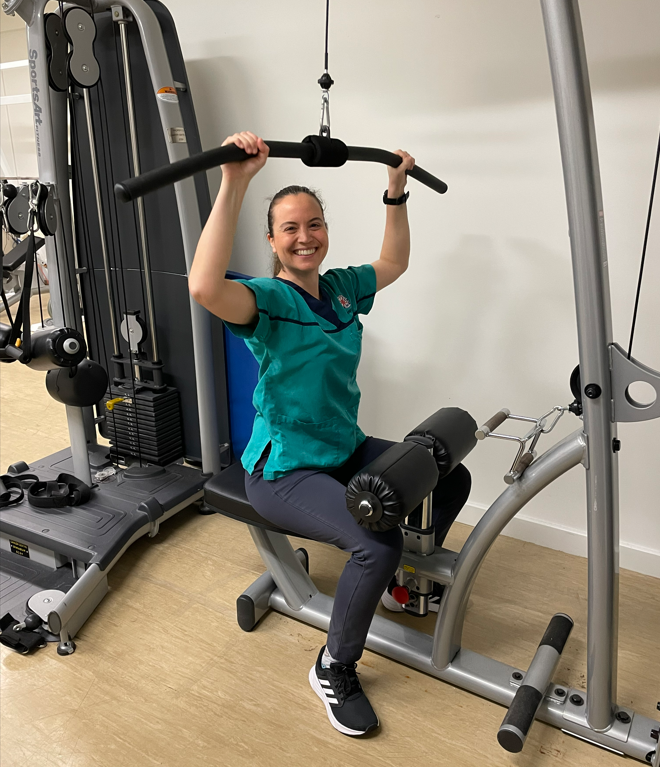 Luisa Perrella at the Cancer Pre-hab Hub
Cancer patients can now better prepare themselves for surgery in the comfort of their home, thanks to an innovative program developed at Sir Charles Gairdner Hospital.
In the Prehab Hub (external site), physiotherapist Luisa Perrella guides patients through a series of exercise videos designed to improve their physical and psychological condition before surgery.
It's a virtual version of the work Luisa has been doing with patients at the Surgical Gym she started at SCGH two years ago.
Deeps Majumdar, an anaesthetist with a special interest in prehabilitation for major surgery, saw the benefit of taking Luisa's potentially life-saving work online.
He championed the project, applying for funding from the Innovative Future Program for a series of videos with Birdhouse Media. Luisa created the exercises, which are designed to help strengthen patients who can't get to the hospital ahead of surgery.
"People with cancer are particularly vulnerable post-surgery," Deeps says. "I thought putting a series of exercises online for patients would benefit those who are not local to the Perth metro area or are otherwise unable to get to face-to-face sessions in the gym.
"The idea is that they can be tailored specifically to the patient's ability and can be done at home, in their local gym - or even on the beach!
"Ultimately for me, it is about giving patients an element of autonomy and control over their immediate future, at a time where they feel that they have little."
Oesophago-gastric surgeon Jonathan Foo compares the day of surgery to that of a marathon.
"You need to be as physically fit as you can, well-nourished and mentally focused to run the race well," he says. "I strongly support the prehabilitation program as a key part of your surgical care."
Luisa started the Surgical Gym program after seeing the detrimental mental and physical effects of major surgery and the subsequent long hospital stay on cancer patients.
"Research has shown that prior to a patient's major cancer operation is a perfect period to implement an exercise regime to have a positive impact on their post-operative outcome," she says.
"I wanted to develop a program where patients could not only get stronger but also help each other through a difficult time.
"With the support of the SCGH Physiotherapy Department, anaesthetists Dr Jing Xiao and Dr Kate Wessels, and the upper gastrointestinal surgical and cancer teams, the Surgical Gym program was created."
Jing Xiao, who assesses and optimises patient health and physical fitness prior to major cancer surgery as part of her work at SCGH, says the benefits of prehab are well-known. These include reduced risk of complications, shorter stays in hospital and quicker returns to normal levels of activity.
"The Surgical Gym program has been a very positive experience for many of our cancer patients - now the home-exercise videos have taken shape and will be a much-needed expansion of the existing program," she says.
"With early participation and ongoing commitment in prehabilitation, you can make a headstart in your journey to recovery."
To watch the videos at your own pace, visit YouTube (external site).