New Sustainability Leaders program and our first award winner!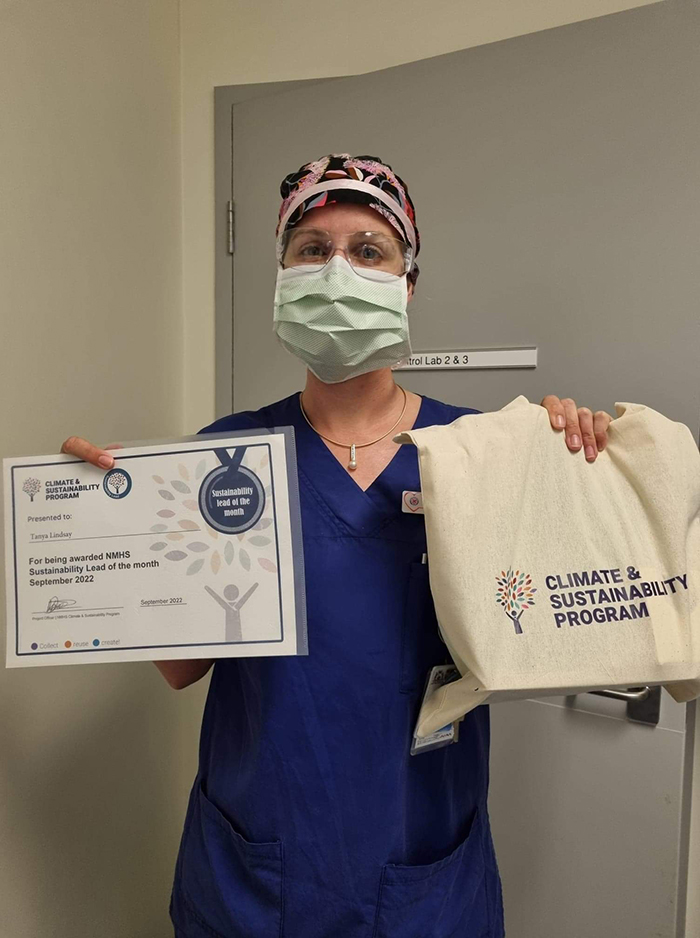 Tanya Lindsay

The program
Our innovative team in the Climate and Sustainability program have launched their latest initiative to green our services called 'Sustainability Leaders'. So far over 147 staff members have joined the program!
One element of the initiative known as 'Champions Corner' is to identify a passionate staff member working hard on sustainability and climate initiatives and award them the title of 'Sustainability Leader of the Month'. To be awarded, the person must:
have been driving change throughout the month and advocating for the program
taken initiative to make sustainable choices and encourage those around them to better their department
be passionate for the cause and interested in the future of the organisations Climate & Sustainability goals; and
be a great team player and overall sustainability leader.
Inaugural Award
The inaugural award this month went to the brilliant Tanya Lindsay, a clinical nurse at our SCGH Cath lab. Tanya is passionate about all things Climate and Sustainability and coordinates small initiatives within her department to save and reduce her carbon emissions output.
Recently Tanya brought a new sustainable product to the attention of the Climate and Sustainability Program: The Greeny.
Tanya worked with Haines to complete a clinical trial of a sustainable version of the Bluey underpad. Traditional plastic Bluey underpads play a vital role in medical care but they are an extremely high-turnover consumable and have been scrutinised for their environmental impact. A recent procurement audit of numerous Australian hospitals found that between 15,600 and 96,000 Blueys were used at each site per year, relative to the number of theatres. With 1350 hospitals in Australia alone, that equates to roughly 75 million Blueys (over 1,950 tonnes) every year, taking over 100 years to break down when disposed in landfill.
The Greeny, made of compostable bioplastic with a 5-ply paper pulp top layer, has been developed as a highly absorbent, certified compostable alternative. Greenys are 60% more absorbent than 5-ply Blueys and 14% more absorbent than 8-ply Blueys which means they can remain in place for longer, reducing underpads turnover. Read the full product description here (PDF).
Such a well-deserved, inspired and inspiring recipient.
Congratulations Tanya!