OPH Stroke Team named best in WA for patient outcomes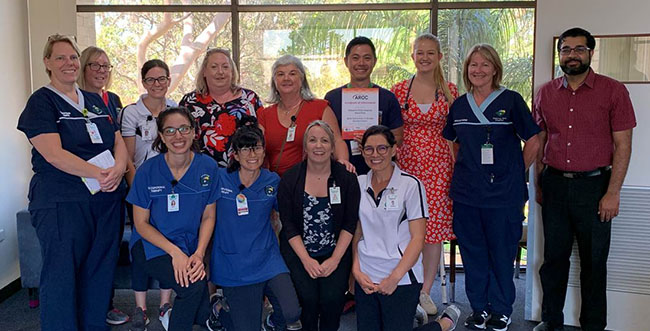 The OPH Stroke team recently won an award at the Australian Rehabilitation Outcomes Centre (AROC) workshop for achieving the best patient outcomes against all other rehabilitation services in WA.
The stroke team is a multidisciplinary team that consistently works hard to help patients achieve the best outcomes in their rehabilitation.
Kien Chan Stroke Consultant said he was pleased that the team was recognised for their hard work.
The team has an integrated approach between inpatient care, rehabilitation at home and outpatient care providing patients with opportunities for reaching rehabilitation milestones.
"We constantly benchmark with local sites and the national database, setting up open dialogue with similar sites to learn from each other's successes and failures," said Kien.
"We have a strong commitment to education and keeping up-to-date by running monthly teaching programs for all sites, including WA Country Health Service (WACHS).
"Our stroke team works really hard and is always thinking outside the box to provide our patients with optimal opportunity for rehabilitation, including undertaking group therapy, music therapy, volunteer led activity programs, volunteer led peer support and tele-rehabilitation," said Kien.
Congratulations to the OPH Stroke team for this well-deserved award.