Karrinyup Rotary Nurse of the Year winner announced for OPH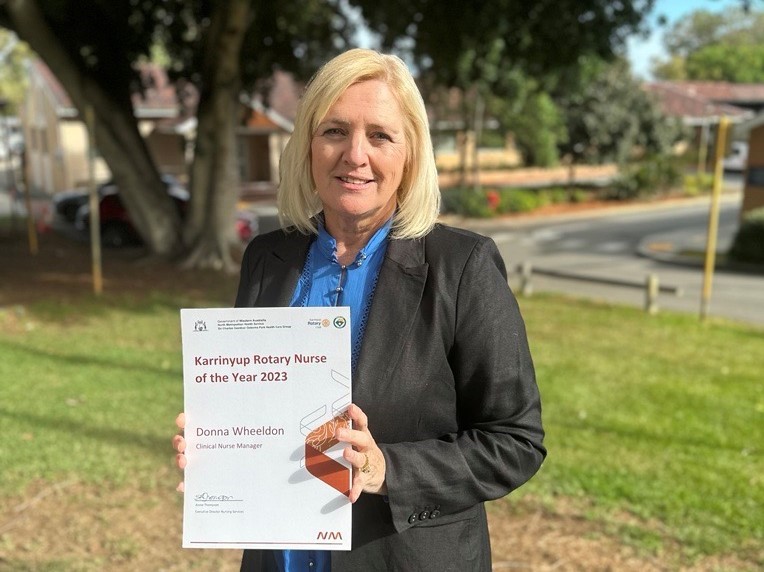 Donna Wheeldon Karrinyup Rotary Nurse of the Year
Donna Wheeldon, Clinical Nurse Manager Osborne Park Hospital has been named the 2023 Karrinyup Rotary Nurse of the Year. The award recognises outstanding nurses at Osborne Park Hospital.
Donna was the finalist in the category of Excellence in Clinical Practice and was nominated for her strengths in safety and quality and making a difference to those around her.
Donna's nomination recognised her as a reliable and humble ward clinical manager who truly puts the patients at the centre of everything she does. She was recognised for her proven ability to build positive relationships, influence and set clinical standards for her ward as well as her personal qualities that inspire and motivate staff within the multidisciplinary team.
The category finalist for Excellence in Graduate Nursing was Melissa Leeburn also from Ward 4 at OPH.
Melissa was nominated for her strong work ethic and positive attitude and for treating others with dignity and respect. She consistently extends herself to understand new topics to gain confidence and a greater ability to educate patients and students.
Tanya Forsyth, After Hours Clinical Nurse Manager was the finalist in the Category of Excellence in Leadership. Tanya's nomination identified her as a transformational leader who is intuitive and responsive to patient and staff needs.
Tanya holds the respect of clinical and non-clinical staff due to her ability to provide expert knowledge and workable solutions. She was recognised for being a calm, respected nurse leader who demonstrates exemplary communication and interpersonal skills.
Donna, Melissa and Tanya were presented with their awards at a dinner with Karrinyup Rotary Club on 2 May, 2023.
Thank you to Karrinyup Rotary Club for their ongoing support in recognising outstanding Osborne Park Hospital nurses.