Congratulations Keren Smith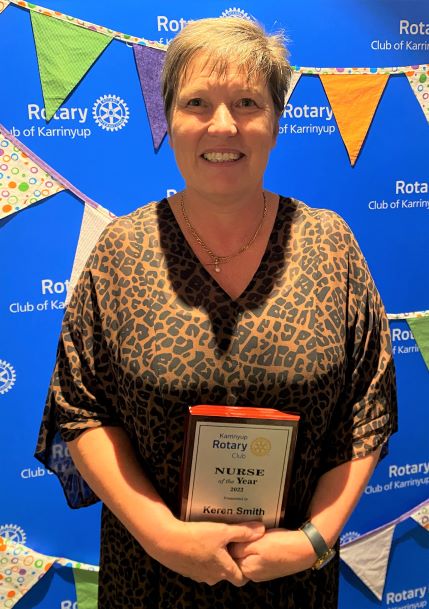 Keren Smith
We are delighted to announce that OPH Nurse Manager Patient Flow Keren Smith has been awarded OPH Nurse of the Year 2022 by the Karrinyup Rotary Club.
Held annually, the award recognises and honours an outstanding OPH nurse who consistently demonstrates innovation and excellence in health care. Keren was presented with her trophy this week at a Karrinyup Rotary Club event held in her honour. Her name was also added to the honour roll on display at OPH as the 34th recipient of the award since its creation in 1990.
As OPH Nurse Manager Patient Flow, Keren supports the delivery of safe, quality patient care across OPH by ensuring we have the right patients in the right place at the right time. She is well known and respected within our health care group and her clinical practice and interpersonal skills are outstanding.
Keren received three separate nominations for the Award from colleagues who emphasised her advocacy for her patients on their care journey, her kindness and empathy and her commitment to ensuring that the patient remains the focus throughout.
As a colleague, she is a great team player who is always willing to lend a hand on wards when there is a shortage. As well as being very supportive, Keren is a great communicator and coordinator who always tries to provide a solution when escalating urgent matters.
We are also pleased to advise that Keren is the latest OPH Employee of the Quarter, which will be celebrated at a virtual event later this month. She'll be presented with a certificate, $150 voucher and cupcakes to enjoy with her team, courtesy of NMHS Staff Recognition Program sponsors.
A special thanks to our generous sponsors Paywise (external site), SmartSalary (external site), P&N Bank (external site) and Hesta (external site).
Congratulations Keren and thank you for the outstanding care you deliver to our patients each and every day.