Thank you from our patients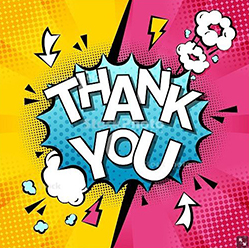 Here's a selection of messages of thanks received from grateful patients and their families for the care they received while at Osborne Park Hospital.
Thank you to Ward 4 staff from a patient and his family.
"Just a note to send our heartfelt thanks and appreciation to EVERYONE who helped make [patient]'s hospital stay so very positive."

"To ALL the nurses, physios, OTs, doctors, orderlies ans assistants (...you know who you are)... Thank you all for your great kindness, professionalism, good humour and care."

"Wishing you all the very best, [patient] and family"
Thank you to Ward 6 from a haemorrhoidectomy patient
"Amazing - 10 star. Very thoughtful and explained everything. It is difficult to believe how easy it all was. Great care and manners by all beyond what is expected, nothing was too much."
Thank you to Day Procedure Unit from two patients
Patient 1 - ophthalmology patient
"All staff (nurse, doctors and other staff) were approachable, pleasant and attentice to my needs. I am really appreciative of how staff made my experience in hospital favourable."
Patient 2 - colonoscopy patient
"The staff are so committed, friendly and helpful. A wonderful experience and will recommend it to my friends. PS the sandwiches were great - thank you."
Thank you from two patients on Ward 3
Patient 1
Thank you card - "To all the staff in Ward 3 for your care, friendship and humour during my hospital stay".
Patient 2
Thank you card - "My sincere gratitude to all the staff on Ward 3 who looked after me and helped me with my rehabilitation to get me back on my feet and back home. Thanks you everyone for your good wishes. With kindest regards, [patient]