OPH Speechies making Telehealth business as usual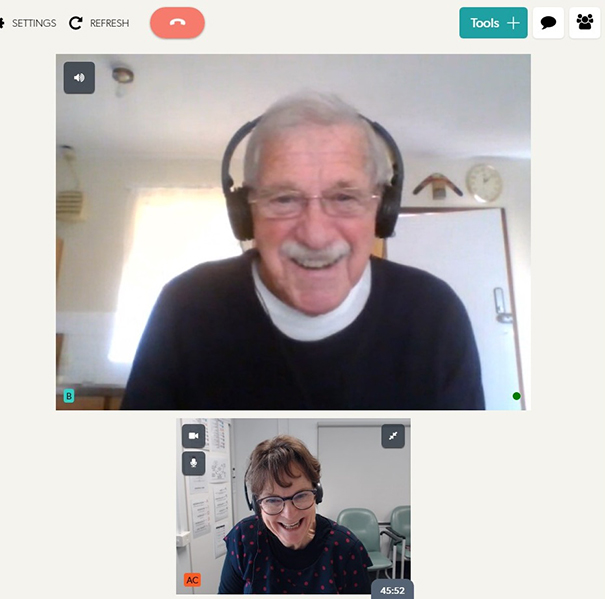 Patient Bob Wearne participates in individual aphasia therapy with his iPad
The speech pathologists at Osborne Park Hospital were early adopters to Telehealth and have continued to grow their virtual program to meet patient need and to adapt to the COVID environment.
An intensive individual voice therapy program for Parkinson's voice patients (LSVT e-Loud) was introduced a few years ago and has shown comparable outcomes and high patient satisfaction, so the transition to additional sessions was relatively simple.
"We have adapted a range of clinic options for our patients, including the 20 minutes 'swallow gym' (outpatient rehab gym) which has been a welcome time-saver for or patients who no longer have to factor in travel time for their short appointments," said Tayla Hutchings, OPH Speech Pathologist.
"The convenience and flexibility for both the clinician and patient is definitely a positive factor, and this model has also enabled family members living rurally or interstate to join in on reviews and family meetings.
"In this uncertain time it has been wonderful for many of our patients."
Adjustments have been made in working with a typically older population but with some trial runs ahead of appointments and step by step instructions the patients have been surprised and happy with the simplicity of the process.
"We also work hard to prepare our patients well in advance – to have relevant materials accessible including food and drink for oral trials, and to ask that caregivers are nearby for support if required," added Tayla.
The team has been able to procure additional equipment (such as a USB extension cord to re-position their camera/screen to further foster a sense of inclusiveness) and now offer any and all assessment and therapy sessions via Telehealth.